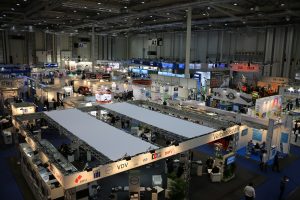 Vom 17. bis 19. September 2019 stellen russische Unternehmen aus der Region Nowosibirsk ihre Produkte und Lösungen auf der führenden Fachmesse für Geodäsie, Geoinformation und Landmanagement INTERGEO vor. Auf dem Gemeinsschaftsstand G3.086 in der Halle 1 des Wirtschaftsministeriums der Region Nowosibirsk werden folgende Aussteller mit dabei sein:
Data East LLC develops software in the field of geographic information technologies in Russia, offering solutions to problems of any complexity – from creating mobile applications to corporate geographic information systems.
Optiplane Aerodynamics LLC will present the Optiplane S2 hybrid copter with vertical takeoff and landing with a range of up to 50 km. Geodesic surveying by Optiplane S2 hybrid copter covers up to 200 ha per day – up to 100 times faster than by land and having 10 times more copters, in addition it is up to 3 times more efficient and safer than an airplane.
GEOKAD Plus LLC develops and implements cadastral and GIS systems for any territorial elements ranging from a federal subject to a rural settlement, as well as multi-purpose corporate GIS for registering and managing power facilities and oil and gas transportation.
Smart Consulting LLC specializes in providing services for the integrated development of information systems, consulting and outsourcing in the field of digital transformation of state administration.
2GIS LLC, an international cartographic company, launches electronic city maps of the same name with city maps since 1999. The main office of 2GIS is located in Novosibirsk.